Playing Tippd – Last Man Standing is very easy and you can play against real matches in the Premier League (EPL), AFL and NRL (more coming soon).
Simply select one team each round that you think will win. If your team wins, you will progress to the next round, if your team loses or draws then you are out!
You cannot choose the same team more than once in a game, so you'll need to be strategic! The Last Man Standing is the champion.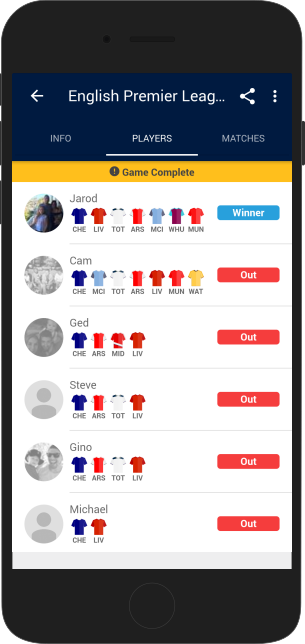 Frequently Asked Questions
You can find all aswers here if you need them
Last Man standing / Survivor is a simple and easy way to run a tipping competition amongst your friends.
The concept is very simple, select one team each round that you think will win. If your team wins, you will progress to the next round, if your team loses or draws then you are out!
It sounds simple but there is some strategy involved, you cannot choose the same team more than once in a game, so you'll need to think ahead!
View the full set of rules here.
We love football, and as a group of football fans we've played LMS for a long time with work colleagues, friends and family , running the games via whatsapp and keeping track on a spreadsheet. This wasn't very fun! Following up players each week to ensure they get their tips in and resulting each game. We thought there must be an easier way. After searching online for a solution we found nothing that could do this and so Tippd was born.
Tippd lets you get a game up and running in an instant. Create the game, share it with your friends and off you go. Let Tippd manage all reminders, notifications, scoring/results and communications.

How can there be strategy with a game like LMS/Survivor you ask? It sounds simple right, but with the rules stating you can only choose each team once in a game you will need to be thoughtful with your picks.
Will you use the top 4 teams first and start off safely? This might seem smart, but probably something most other players will have thought of also, which means there could be more players through to the next round.
Do your research and look for possible upsets, and you may be able to keep some of the big teams for the business end of the competition where other players may be forced to choose the outsiders!
As with all sports, anything can happen – give yourself an advantage by keeping up to date with injuries, suspensions, home/away form and anything else that could make the difference.
Good luck!
Currently we are supporting the following leagues:
Europe: English Premier League, English Championship
Australia: NRL, AFL, A-League
Custom Leagues (Beta): Create your own Leagues for any sport/event – read more.
If you'd like to see a League/Sport added, please contact us.
Currently the number of players per game is set to a maximum of 1000 players. If you would like to run games with more than 1000 players, please contact us.
Each player starts off with a number of Credits which can be used to join  games which have a Buy-In set by the Admin.
Playing for credits/points keeps it interesting and lets you track who is winning and losing.
You can setup a game to play for Fun/Free, or you can set a Buy-In of a nominal amount of Credits. As more players join a game you can track the size of the Pot and see how much could be won.
The winner of the game wins the total credits in the Pot.
Credits have no monetary value and are completely free, it is simply a virtual currency.
If you run out of Credits, you can top up your credits for free in the app, simply follow the instructions.
Tippd has evolved organically from a bunch of mates playing the game via spreadsheets to now releasing the app version and we'd love to hear feedback/comments/suggestions on how we can improve things. Please contact us, we'd love to hear from you.
If you have logged in and cannot see your games, it's possible when you first created your account you logged in with Google and/or Facebook or vice versa, please try both methods and see if your Games show up.

Why does this happen?
We currently offer 2 different ways to sign in to Tippd, via Google or Facebook login and we create your unique Tippd account using the login method. At this stage we have no method to link your Facebook/Google logins together. This will be resolved in a future release.
Each round, you simply select 1 team to Win. If your team wins you are through to the next round. If your team draws or loses, you're out!
Changing your picks is only possible if the Admin enabled it - see the 'Game Info' section of your game.
Once you have selected a team, you cannot use that same team again in the current game
If you forget to pick a team, you can only remain in the game if all other remaining players select a losing team in the round
The game continues until there is 1 player left standing, who is declared the winner
If there are no more rounds/matches left in the season for that league, the remaining players are declared joint winners
If a match is Abandoned, Cancelled or Postponed and you selected that team in the round it is deemed a Bye
<b>CONDITIONAL RULE:</b><br/> If all Active Players choose a team that Loses, Draws, or is considered a Bye for their selected matches in the round: <br/> - When Rollover is <b>Disabled</b>, all <b>remaining</b> players continue to the next round. <br/> - When Rollover is <b>Enabled</b>, a Rollover game is created and <b>all</b> players can play on.
You cannot win the entire Tippd game due to a bye (i.e. Abandoned, Cancelled or Postponed), the play will continue until someone wins outright.
Tippd is made to be social, invite your friends and find out who is the champion!